Marie Joseph Paul Yves Roch Gilbert Motier, Marquis de la Fayette (1757-1834)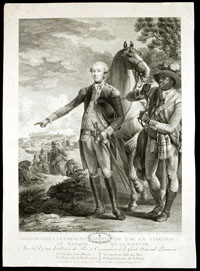 Of the many European volunteers who helped the American war effort, la Fayette played the most pivotal role. The French aristocrat was 19-years-old in 1777 when he arrived in America and convinced the Continental Congress to give him a commission as Major General without pay. He then served on George Washington's staff, became an effective field commander, and may have single-handedly foiled the most serious conspiracy to remove Washington from the army. He also represented the American cause in France in 1779, where he arranged for more military aid for the struggling new country. la Fayette returned to Washington's army in 1780 and defended Virginia against the advance of Charles Cornwallis. His efforts helped corner Cornwallis at Yorktown until the combined American and French armies under Washington and Rochambeau arrived in the fall of 1781.
Marie Joseph Paul Yves Roch Gilbert du Motier was born in France on September 6, 1757, to Michel Roche Gilbert du Motier, Marquis de la Fayette and Colonel of Grenadiers, and Marie Louise, daughter of the Marquis de La Rivière. His father was killed in action at the Battle of Minden on August 1, 1759, fighting against British officers — including Cornwallis, who would later become his son's enemy in America. la Fayette was educated by tutors at home and then at the Collège du Plessis before moving to the Académie de Versailles for military training. He was heir to a vast fortune that he expanded at age 16 by marrying a relative of the French royal family. He was also 16 when he received his first commission in his grandfather's regiment, the Black Musketeers. By 1776 la Fayette was a captain of cavalry and enthralled with the Enlightenment ideals of liberty and equality contained in Declaration of Independence. He arranged a meeting with Silas Deane, the Continental Congress' clandestine representative in France, who was eager to obtain whatever support he could for the colonies' fight. Deane wrote a letter of introduction for la Fayette, who purchased a ship and left for America in April 1777 in open defiance of his own family and of France's king.
Although la Fayette had no battlefield experience, the Continental Congress appointed him a Major General in the Continental Army on July 31, 1777—a decision made considerably easier when la Fayette made it clear he did not expect pay or a command. He reported to George Washington's staff, and the two formed a close, remarkably affectionate bond that would last the rest of their lives. la Fayette first saw field action at the Battle of Brandywine on September 11, 1777, when the young Frenchman helped stave off a complete rout and was wounded in the left leg—which gave him credibility in the eyes of his American compatriots. After he recovered, he commanded a reconnaissance force that defeated a force of Hessians near Gloucester, New Jersey, on November 25. A week later Congress gave him his own command: a division of Virginia infantry. During the winter of 1777-78, la Fayette demonstrated great loyalty to Washington in frustrating the "Conway Cabal" to remove Washington from command. He endured the hardships of that winter at Valley Forge and defended the camp from a British attack near Barren Hill, Pennsylvania, on May 20, 1778. He participated in the subsequent Monmouth campaign and was then sent by Washington to Newport, Rhode Island. He earned the thanks of Congress for securing the orderly retreat of American forces there, but he failed to stop French Admiral Jean-Baptiste d'Estaing from withdrawing his fleet from Narragansett Bay, which ensured the failure of the campaign to retake Newport from the British.
When the British turned their attention to defending the West Indies from the French, la Fayette took the opportunity of the lull in fighting to return to France. He persuaded his government to increase its military aid to the United States, which led to the French expeditionary force under Rochambeau joining Washington in 1780 and eventually marching on Yorktown. la Fayette returned to America in April 1780 and provided a valuable service as intermediary between Washington and Rochambeau.
Washington sent la Fayette to Virginia when news of Benedict Arnold's raids there raised alarms about the vulnerability of the Chesapeake. In the Virginia campaign of 1781, la Fayette and 1,000 men faced Charles Cornwallis' army of 4,000 troops. la Fayette avoided Cornwallis' efforts to trap him until Anthony Wayne arrived with reinforcements. la Fayette then advanced on Cornwallis, engaging him in a skirmish near Williamsburg on June 26 and attacking what he thought was a rear guard of Cornwallis' forces at Green Spring on July 6. Instead, la Fayette encountered the main body of Cornwallis' reinforced 7,000 man army, and disaster was avoided due to a well-timed charge by Anthony Wayne's troops, la Fayette's own skillful handling of the retreat, and Cornwallis' failure to press his considerable advantage. By August, Cornwallis had moved his exhausted and ill troops to Yorktown, while la Fayette shifted his base of operations to Williamsburg to keep the British army confined on the Peninsula. A month later, the combined Franco-American army of Washington and Rochambeau rendezvoused in Williamsburg on their way to Yorktown and the ultimate engagement of the war. During the subsequent siege, la Fayette was given command of a light division that played a meaningful role in forcing Cornwallis' surrender in October.
In 1782, la Fayette returned to France to help organize its direct efforts against Britain, but peace was declared before he could act. He visited America briefly in 1784 and then, back in Paris, assisted the United States' Ambassador to France, Thomas Jefferson. La Fayette embraced the burgeoning revolution in France, hoping that the American experiment in liberty could be extended to his country. In 1789 he proposed a French Declaration of Rights, much like that of Britain and many American states, and he advocated for the abolition of the titled aristocracy and slavery. la Fayette soon recognized that the leaders of the French Revolution were nowhere near as reasonable as America's revolutionaries and were not interested in taking gradual steps towards building a stable republic. la Fayette withdrew from public life in 1791 but was soon recalled to defend France against an Austrian invasion. la Fayette had other ideas, however, and intended to use the army to restore the monarchy on a constitutional footing. He was charged with treason by the National Assembly in August 1792 and recalled to Paris to stand trial. Rather than face the guillotine, la Fayette attempted to return to America but was taken prisoner by the Austrians while on his way to the coast. He was eventually imprisoned in the fortress at Olmütz in Moravia, where he remained until 1797. His wife, Adrienne, and their two daughters were allowed to join him in 1795 (his son, George Washington la Fayette, made it to America, where he found refuge with President Washington). Meanwhile, Adrienne's entire family was murdered during the Terror. After his release, and two subsequent years in exile in Holland, la Fayette retired again, removing to his wife's estate, the Château La Grange, near Paris. He did return to public affairs when he was elected to France's Chamber of Deputies, in which he served from 1818 to 1824.
In 1824, la Fayette accepted James Monroe's invitation to visit America. He arrived in New York City in August and began a tour through the whole country. At one stop after another he was greeted with a level of enthusiasm that contemporaries believed was without precedent in American history. la Fayette returned to France in September 1825 and was again elected to the Chamber of Deputies. He took command of an army in the field once more in 1830 during the July revolution and helped restore the French monarchy. He died in Paris on May 20, 1834. To this day, an American flag flies over his grave.