The Battle of Cape Henry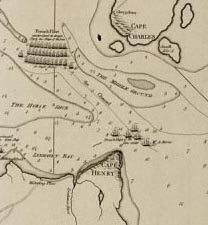 The Battle of Cape Henry was fought about 40 miles off the southernmost point of the Chesapeake Bay on March 16, 1781, between a French squadron of eight warships under Commodore Charles-René Sochet, Chevalier des Touches, and 13 British warships under Rear Admiral Marriot Arbuthnot. The battle was something of a tactical victory for the French in that des Touches caused serious damage to Arbuthnot's three largest vessels, but the British inflicted almost twice as many human casualties and won a major strategic victory in temporarily securing the Chesapeake Bay to support operations in Virginia.
Since December 1780, British and Loyalist troops under Benedict Arnold were maneuvering more or less at will in eastern Virginia, going so far as to capture the new capitol at Richmond in January before establishing a base at Portsmouth, near the mouth of the Chesapeake Bay. To counter Arnold, George Washington dispatched the Marquis de Lafayette and 1,200 soldiers to march from New Jersey to Virginia, where they were meant to rendezvous with a similar number of French forces under Charles du Houx, Comte de Vioménil, who were to travel by sea from Newport, Rhode Island. Des Touches' eight vessels — seven ships of the line and one frigate — sailed from Newport on March 8. Arbuthnot, whose small fleet of nine ships of the line and four frigates was situated at the eastern tip of Long Island, New York, caught sight of des Touches two days later and gave chase. Once the experienced Arbuthnot, who had been stationed in Virginia in the 1750s, determined that the French fleet was on a course for the Chesapeake Bay, he shifted to a more direct route and was waiting off Cape Henry when the French arrived on March 16 (despite des Touches' 36-hour head start).
Immediately upon seeing the French fleet, Arbuthnot ordered his ships to close with the enemy and engage. The battle lasted for an hour, during which Arbuthnot's three leading vessels, including his flagship, the 98-gun HMS London, were considerably damaged. At the end of the engagement, superior British gunnery - in numbers and skill - persuaded des Touches to break off the fight and return Lafayette's reinforcements to Rhode Island. Arbuthnot, however, chose to remain in the Chesapeake and took his battered fleet into Lynnhaven Bay (on the other side of Cape Henry) for repairs. The human cost of the short fight was considerable. 30 British sailors were killed and 73 wounded, while French losses were significantly higher: 72 killed and 112 wounded.
Arbuthnot's strategic victory in securing the Chesapeake Bay for the British, and then holding it against des Touches, kept Arnold's position safe and protected the landing on March 26 of about 2,000 fresh British troops under Major General William Phillips. For the next two months, British forces were able to wreak considerable havoc across Virginia — opposed only by local militia and a handful of Continental regulars until the arrival of Lafayette and his troops at the end of April, by which time Arbuthnot had returned to New York.