Benjamin Tallmadge (1754-1835)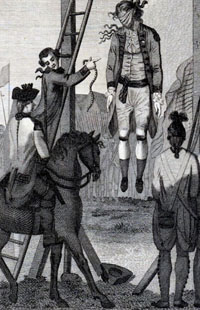 The second of five sons, Benjamin Tallmadge was born to Susannah Smith Tallmadge and the Rev. Benjamin Tallmadge at Brookhaven (Long Island), New York on February 25, 1754. His father was a pastor, and conducted Tallmadge's early education, leaving him particularly "well versed" in Latin and Greek. Tallmadge enrolled at Yale at the age of 15, where he befriended Nathan Hale, who would soon become famous for an early, ill-fated mission in intelligence-gathering for the Continental Army.
Upon his graduation in 1773, Tallmadge accepted a position as headmaster of a high school in Wethersfield, Connecticut. He was not, however, destined to remain a schoolmaster for long. "When first American blood was shed at Lexington by the British troops, and again repeated much more copiously at Bunker's Hill, near Boston, the whole country seemed to be electrified," Tallmadge later recalled. "Among others, I caught the flame which was thus spreading from breast to breast, and mounted my horse to go and see what was going on near Boston."
At that time Tallmadge had been considering taking up the law, and he was not immediately inclined to join the army. However, upon meeting up with a Wethersfield friend, Colonel John Chester, he was persuaded to accept a lieutenant's commission and an appointment as adjutant in Chester's new regiment. Tallmadge's father, although "a firm and decided whig of the revolution," was "reluctant" to see his son join up, but "the die was cast."
Tallmadge joined the Continental Army encampment in New York City in June of 1776, where he was in charge of helping to train and discipline the new army. It is here that he would first have come to the attention of George Washington. He served in several actions in the defense of New York City, including the Battle of White Plains and the Battle of Brooklyn (in which one of his brothers was captured and eventually died of starvation in a British prison); Tallmadge was in the rear guard during the retreat from Long Island.
Trusted by Washington and quickly advancing in rank and responsibility, Tallmadge was commissioned as a captain of the Second Continental Light Dragoons in December of 1776, and was promoted to the rank of major in April of 1777. As an officer in the field he served in several notable actions, including the Battle of Germantown in Pennsylvania and the Battle of Monmouth in New Jersey. At Valley Forge, he commanded an observation corps.
Perhaps even more importantly, Tallmadge became a vital player in Washington's intelligence network. His first encounter with espionage came in early 1777, as he worked as a contact receiving information from Nathaniel Sackett and Major John Clark. He became, for all intents and purposes, Washington's chief spymaster in 1778, after ill health forced Clark to step back and Charles Scott, Washington's intelligence chief, also resigned. Referring to his activities discreetly as a "private correspondence," Tallmadge built up a small but secure espionage network that provided Washington with valuable information about British plans and troop activities in and around New York City during the course of the war. Now known as the "Culper Spy Ring" after the aliases of two of the ring's primary members (Tallmadge himself assumed the name "John Bolton"), the network relied on bonds of trust and familiarity between long-term embedded agents - particularly Abraham Woodhull (aka Samuel Culper) and Robert Townsend (aka Samuel Culper, Jr). These men gathered information, wrote coded or "invisible ink" letters, and sent those letters through secure couriers to Tallmadge himself. The methods Tallmadge and his spies helped pioneer both provided Washington with vital information and became the basis of the United States' intelligence service.
Tallmadge also played an important role in the saga of Benedict Arnold's defection. Arnold's associate, Major John André, was captured shortly before Arnold was due to surrender West Point; his capture forced Arnold to flee prematurely. When André was brought to the Continental Army as a suspicious person, he was put under Tallmadge's watch. Tallmadge suspected André's military associations, and it was Tallmadge to whom André first gave his confession. Tallmadge was sympathetic to André and, while seeing the necessity of his execution, had considerable respect for the condemned man (and fellow, though opposing, intelligence agent), later writing that "for the few days of intimate intercourse I had with him, which was from the time of his being brought back to our head-quarters to the day of his execution, I became so deeply attached to Major Andre, that I can remember no instance where my affections were so fully absorbed in any man. When I saw him swinging under the gibbet, it seemed for a time as if I could not support it."
Drawing upon intelligence gathered from his New York agents, Tallmadge led a daring and successful action to capture enemy supplies at the ill-defended Fort St. George on the east end of Long Island in November of 1780. Not only was the British outpost destroyed, but Tallmadge's troops were able to capture British supplies and march them out on the backs of British prisoners.
Tallmadge remained in the northern theatre during Washington's southern campaign. As it became increasingly clear that peace terms and an American victory were on the way, Tallmadge took care to protect his agents in New York. He received permission from Washington to enter the city "under the cover of a flag" to "ensure the safety" of his correspondents, who were assumed by their neighbors to be staunch Tories and therefore might otherwise have suffered from persecution when the British left the city.
At the war's end in 1783, he was brevetted a lieutenant colonel. He returned to Long Island to visit his family, and soon afterward married Mary Floyd (daughter of wartime congressman and signer of the Declaration of Independence William Floyd) on March 18, 1784. Taking his new bride to Litchfield, Connecticut, he became a successful businessman and bank president. (After his first wife's death in 1805, he was married to a Miss Hallett in 1808; altogether he had five sons and two daughters.) In 1800 he was elected to Congress as a Federalist, where he served until 1816, and was for a time the chairman of the House Military Affairs Committee.
Tallmadge was also an important figure in the Connecticut branch of the Society of the Cincinnati (a Revolutionary War veterans' organization), in which he served as treasurer and eventually as president. He also leaves us a moving record of the American soldiers' love for Washington, reporting on the emotional scene of the General's parting from his troops at the end of the war.
Tallmadge died in Litchfield on March 7, 1835, at the age of 82.