Abigail Smith Adams (1744-1818)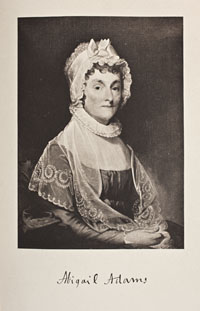 Abigail Smith Adams wasn't just the strongest female voice in the American Revolution; she was a key political advisor to her husband and became the first First Lady to live in what would become the White House.
Known for her intelligence and wit, Adams was born November 11, 1744, in Weymouth, Massachusetts, to William and Elizabeth Quincy Smith. Plagued by poor health as a child, she acquired an extensive education through reading. She later wrote that her sister's husband, Richard Cranch, was a tutor who put "proper Bookes into my hands, who taught me to love the poets and to distinguish their Merrits." When her mother worried about Adams' bookish nature and strong opinions, Adams' grandmother assured her that "wild colts make the best horses."
In addition to teaching Adams how to read French and guiding her through the works of Shakespeare, Milton, and Pope, Cranch was also likely responsible for introducing her to his best friend, John Adams, then a struggling young lawyer. Although nine years apart in age and raised in very different circumstances, Abigail and John Adams found in each other a "dearest friend," the term of endearment used throughout their voluminous correspondence. They married in 1764. Their first child Abigail Amelia (Nabby) was born the following year. The couple eventually had six children but suffered the deaths of two daughters as infants. Of the surviving children, their son John Quincy Adams would rise to national prominence and, like his father, serve as President of the United States.
Abigail Adams learned to singlehandedly maintain the household and run their farm in Braintree during her husband's absences on the legal circuit. This independence and self-sufficiency served her well as John became increasingly busy with revolutionary politics. During the Battle of Bunker Hill (Breed's Hill) on June 17, 1775, Abigail and son John Quincy watched the fighting from nearby Penn's Hill. John Quincy recalled watching his mother sob upon receiving the news that their close friend, Dr. Joseph Warren, had been killed in that fighting.
John Adams' duties as a delegate to the First and Second Continental Congresses kept him away in Philadelphia, Baltimore, and other towns for long stretches. The resulting correspondence between John and Abigail documents the forming of a new nation and the influence Abigail Adams had on her husband's opinion. In a letter of March 31, 1776, Abigail famously reminded her husband to "remember the ladies" when considering new rights and liberties for the young nation.
Abigail Adams' skilled management of the family's business allowed her husband to devote his energies to politics. As John Adams labored in Congress to build consensus for independence from Great Britain and create a new government, his wife personally educated all their children, ran the agricultural activities on their farm, arranged smallpox inoculations for the entire household, and kept track of finances. When the non-importation acts discouraged use of British textiles, Adams spun and wove her own fabric to make clothing for the family. Writing from Congress, John Adams acknowledged his wife's skill with the joking compliment he had received word that their farm never looked better and was likely to outshine all their neighbors.
The Adamses endured an even longer series of separations beginning in February 1778 when John Adams was appointed a diplomatic envoy to Europe. Travel across the Atlantic was very dangerous at that time as British warships seized any American ship they could capture and often imprisoned the passengers. John and Abigail decided together that the conditions were too risky to endanger the children. Returning from his first appointment in April 1778, John Adams was sent France in November 1779, beginning a five-year separation as Abigail Adams and the children (except John Quincy, who travelled with his father) remained in Massachusetts. They were finally reunited in France in 1784. They moved to London in the spring of 1785 when John Adams was appointed the first U.S. minister to the Court of St. James (Great Britain). Abigail and Nabby were presented to Queen Charlotte, the wife of George III, in June. They sailed back to America in April 1788.
The Adams family had little time to enjoy domestic life after their return because John Adams was elected vice president under George Washington in March 1789. Abigail did not join John until November 1790, by which time the capital had moved from New York to Philadelphia. Abigail abhorred Philadelphia so much that she remained only six months before returning to Massachusetts. After Adams' election to the presidency, Abigail returned to Philadelphia in May 1797. Historians have speculated that her support for the Alien and Sedition Acts, which doomed her husband's chances for re-election, swayed John into signing them and that she became his sole political advisor in the controversial aftermath of the signing. In November 1800 Abigail joined John in the new capital at Washington, D.C., thereby becoming the first First Lady to live in what would become the White House. After Thomas Jefferson defeated Adams for in the hotly contested election of 1800, the couple returned to Massachusetts.
There was then no pension for former presidents, so the couple lived simply on the savings she managed to accumulate over her husband's career of public service. The sole governmental privilege was John Adams' postal franking authority, which allowed him to send mail for free. Bitter that the nation heaped accolades on the deeds of Washington, Franklin, and Jefferson while disregarding her husband's substantial contributions, Abigail Adams encouraged her friends and acquaintances to send their letters through John Adams' free mailing service.
After several years of poor health, Abigail Adams died on October 28, 1818.