The Boston "Massacre"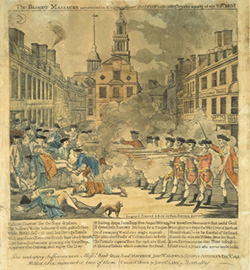 Boston's resistance to the Stamp Act and Townshend duties had been so virulent and persistent that 3500 British troops moved into the city on October 1, 1768 to quell the disorder. Relations between the soldiers and citizens were poor from the start. Brawls between them were not uncommon by the next year. One Bostonian observed to John Wilkes in November 1769, "that the life of a paltry Citizen is in the estimation of some of as little Value here as at…St. Georges Fields" in London, where six people—including one child—were killed and 15 wounded by British troops on May 10, 1768, while demonstrating for Wilkes' release from prison.
Things began to spiral out of control on February 23, 1770, when an 11-year-old boy was shot and killed by a Boston importer while protesting with other boys outside the importer's house. The funeral was organized by Samuel Adams as a mass demonstration, modeled on that of the victims of the events at St. George's Fields. Hundreds of boys and thousands of adults marched in the boy's funeral procession.
Tensions in the town increased until March 5, 1770, when a crowd assembled in front of the Customs House and began to taunt the guard. Eight soldiers were sent to support him, which seemed to only make matters worse, as taunts turned into missiles of rocks and ice hurled at the troops. Whether someone gave an order to the soldiers to fire on the crowd is unclear, but fire they did, killing five men—including Crispus Attucks, who was either an African American or a Native American, or of mixed race. (The evidence is unclear.) Several others were wounded.
Although the soldiers clearly acted out of fear rather than design or hatred, history has shown how successful the radicals, such as Samuel Adams and Paul Revere, were in their campaign to have it remembered as the Boston "Massacre." It was hardly that. Revere's famous print of the event comes nowhere near the truth of it. Nevertheless, the tragedy inflamed the people of Boston in the immediate aftermath. Samuel Adams channeled that into securing the removal of all three regiments from the city to Castle William in the harbor, which diffused the tensions.
Tried by a civilian criminal court in Boston, the soldiers—defended by two Boston radicals, John Adams and Josiah Quincy, Jr.—received the verdict on December 4, 1770: six were acquitted and two found guilty of manslaughter, for which they received a brand on the thumb.
It is important to note that historians appear to have made much more of the Boston "Massacre" than contemporaries did. There is a remarkable lack of evidence that it caused any sort of ferment in any other colony. William Rind's Virginia Gazette, for example, did not publish word of the events of late February and early March until April 5, 1770. In a lengthy piece that covers almost three pages of publication, the events were described as "a recent and melancholy demonstration of the destructive consequences of quartering troops among citizens in time of peace," "the late catastrophe," "a tragicall affair," and "this horrid massacre." Yet it is a fairly balanced and complete account that seems to have generated no public or private comment from Virginians who appear to have been more concerned with rumors of the repeal of the Townshend duties than this so-called "tragicall affair" in Boston.