"Wilkes and Liberty"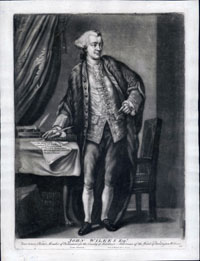 "May you convince Great Britain and Ireland in Europe, the British Colonies, islands and Plantations in America, that you are one of those incorruptibly honest men reserved by heaven to bless, and perhaps save a tottering Empire." Boston Sons of Liberty to John Wilkes, June 6, 1768.
John Wilkes' impact on the development of colonial opposition to Britain cannot be understated, although it has been understudied. Not only did the causes in which he was embroiled-from his prosecution for publishing North Briton No. 45 to his repeated expulsion from the House of Commons-help shape American perceptions of British constitutional corruption, he was also a significant personal influence on major colonial political leaders, including several signers of the Declaration of Independence. Wilkes and images associated with him entered the revolutionary political culture as symbols of British constitutional liberty, and the apparent threat to it by the arbitrary actions of ministers. "Wilkes and Liberty" became a byword, and frequent toast, for radicals from Boston to Charleston, just as his name became anathema to moderates as representing the rule of the mob rather than the rule of law. According to Pennsylvania's Benjamin Rush, a signer of the Declaration of Independence who met Wilkes in 1769, the British world "was divided into his friends and enemies according as they espoused or opposed the measures of the government."
In fact, Wilkes was indirectly responsible for the most serious political dispute in South Carolina's colonial history, one that effectively brought to an end its provincial government five years before independence was declared. In December 1769, the South Carolina House of Commons voted to give £1500 to the Society of Supporters of the Bill of Rights in London to help defray Wilkes' mounting legal bills. The subsequent dispute between the assembly, the colony's acting governor, and the British ministry meant the end of legislative action in the colony until the beginning of the War for Independence.